---
I want to adopt and see some helpful tips
Brilliant, you are one step closer to reminding one of our Soldiers that our nation cares about them. Soldiers often feel lonely while they are away and adopting a troop is a great way to help them rid that feeling.
Watch this 46 second video message from my son Joshua

NOTE: The Law Requires that
"You MUST be 18 or OLDER" to Adopt-A-Soldier
By clicking to adopt "you confirm" you are at least 18 years old!
If you wish to "Adopt-A-Soldier"

Click Here!



Clothing ideas
T-shirts Military
Military-Style Boots
Underwear White Socks or Black
PT Uniforms
Mechanic's Gloves/work gloves
Sun Glasses
Wicking t-shirts
A pair of white sneaker (for PT)
Shower Shoes (to keep foot fungus away)
Duffel and Cargo Bags
Personal Hygiene
Baby Wipes
Razors
Shaving Cream
Antacid Tabs
Dental Floss
Chap Stick
Toothbrush/Toothpaste
Toilet Paper
Eye Drops
Foot Powder
Deodorant
Motrin/Tylenol/Aspirin/Aleve
Nasal Saline Spray
Sun Block
Bandages/Neosporin
Vitamins
Fluoride Rinse
Shampoo/Conditioner
Liquid Soap
Pads/Tampons/Panty liners
Nail Clippers/Files
Powder Toothpaste (new toothbrushes)
Fluoride Rinse
Shampoo Liquid Soap (bars melt)
Non-Aerosol Deodorant
Non-aerosol Bug Spray
Cort-Aide or any Cortisone cream Benedryl tablets
Band-Aids (finger type especially)
Feminine Hygiene Items
Kleenex
OFF Mosquito Coils
Foot Powder
Bug Candles
Munchies
Powdered Gatorade - Much needed item! Powdered Tang - Much needed item!
Coffee
Hot Cocoa
Tea
Punch Mix
Cookies (Sealed)
Gum
Lifesavers
Mints
Jolly Ranchers
Gummy Bears
Crackers
Nuts
Sunflower Seeds
Trail Mix
Pop Tarts
Cereal Bars
Granola and Power Bars
Pringles Cans with Pull Tops
Bagged Snacks
Beef Jerky
Cup-a-noodles
Dried Fruit
Hard Candy
Popcorn
Pretzels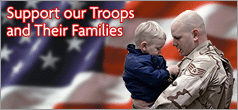 Contact Operation Soldier Assist: Click
Here